Hey guys if you haven't entered already this is a Contest awesome!! I don't know why you haven't entered already, but here are more details!!
Whats Up to win??
Twilight Journals

Soulless by Gail Carriger

Ecstasy Unveiled by Larissa Yone + Demonica Bookmark

First Drop of Crimson by Jeaniene Frost

Kiss of Midnight by Lara Adrian

Dark Visions Trilogy by L.J. Smith

Pink Bag (I brought it from Rome, Italy)

Swag: Colosseum Mouse pad, Colosseum Pencil case and Note Pad.
Ohh Don't you love pictures, well here are the prizes!!!
What a great give away right!!! Then what are you waiting for check it out for your self at Larissa's Life. Good Luck to everyone who entered or are entering!!
Just wanted to say Congrats Larissa for hitting not only 350 but last i checked 411!!! :)
Another giveaway at Larissa's Life!!
To enter:
Leave a comment on this post about the Interview... That's all!
Check out this awesome Interview with Author Michele Bardsley and enter for a chance to win Come Hell or High Water (the above book!!) Ohh did i mention book is signed by Author!!!! I KNOW AWESOME!!
Here the link to the interview and contest!!
Good luck to all of you who have entered and those who are entering!!
Special thanks to Larissa for such awesome give aways!!
On to another Great Giveaway but this one from another Awesome Blogger over at Rex Robot Reviews here are the detail!!
No coincidence here- it ends
INTERNATIONAL CONTEST
Lots of books to choose from!
Lots of extra entries!
More followers, More winners
!
Now- What is up for grabs?!
*Books listed w/asterisk are available to the 1st place winner only!
-Winners #1, #2 & #3 get to choose books!
-Winners #4 & #5 get some fun swag!
-A couple books are from my own shelf- slightly used!
-
Winners will be announced within one week of 03/17/2010
I

sn't this such an awesome give away!!! Then what are you waiting for go check it out and put in your entry! Good Luck to all who have entered. To get to this great contest click on the Button above!!
In Which A Girl Reads!!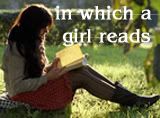 Over at Choco's Blog she just hit 400 followers, actually it's now at 415 followers!! (Congrats Choco!!) Well to celebrate she is having an awesome give away. What you?? You may be asking what you can win well here are the details: This is an International contest for a book from the Book Depository but just remember the Book Depository has to deliver to you (click on the link above to see). If you do win this awesome contest up for grabs is a book under $20. from The Book Depository!! So what are you waiting for go on enter this awesome contest!! Click on the button to check out this awesome blog. To a direct link to contest click Here
Hey do you got a contest you want me to check out and prompt, email me at Kelly.kelinhas@gmail.com or just comment on this blog post!! :)